Episodes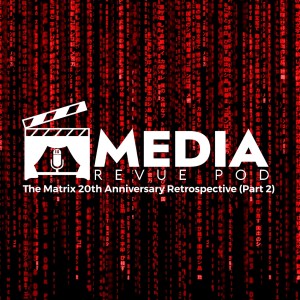 Sunday Jun 16, 2019
Sunday Jun 16, 2019
Unlike the sequels to the Matrix, we won't make you wait years, or even 6 months for Part 2 of our conversation with Jerry White tackling the 20th Anniversary of The Matrix and its sequels. We also discussed Jerry's Film Festival, The Vidlings & Tapeheads Film Festival in Michigan which opens on June 28th. In our conclusion to our conversation, other things came up as well, like sequels and prequels, degrading computer codes, The Animatrix, digital doubles, Hugo Weaving, the Key Maker, condescending exposition dumps, "upgrades", Flying Neo, Captain Marvel, and digital gore.
If you're in the area of Detroit, Michigan, please drop by The Vidlings and Tapeheads Film Festival. You can learn a little more about it by following them on Twitter @Vidlings and by going to their website www.vidlingsandtapeheads.com .
As always, find us on Twitter at @mediarevuepod with #mediarevuepod, email us with questions, comments or suggestions at mediarevuepod@gmail.com or call us and leave a voicemail at (407) 603-5847.
If you are so inclined, you can spread the word by sharing this episode and by rating and reviewing our podcast on iTunes, Stitcher, and Spotify.